Today's Close of MissionOG Fund III – and Why It's About So Much More Than Capital
---
MissionOG announced today the final close of its fourth fund, MissionOG Fund III with $167 million raised, exceeding its target of $150 million. Details are included in our official announcement here. Fund III provides MissionOG with the ability to continue doing what we are passionate about and excel at, which is to partner with B2B entrepreneurs who are digitizing the economy with innovative solutions at the intersection of FinTech, data and software.
"Partnership" is not a word we use lightly – it precisely distills how MissionOG approaches investments. After a decade together and with the close of our fourth fund, we remain resolute about a model that has been the linchpin to MissionOG being a preferred investment partner for its portfolio companies. With our deep expertise and support that goes far beyond just the financial aspect, we aim to be the sought-after investment partner.
Consider the words of Mike Hansen, former CEO of MissionOG portfolio company Alkami, which went public in April, 2021.
"Absolute partnership. And they mean it. MissionOG has supported our big ideas and helped guide Alkami along the way. The team's relevant experience and collective network have been invaluable to us. They are truly committed to our success."

– Mike Hansen, former CEO, Alkami
Our thinking from the start was that great companies have plenty of options for capital. We started MissionOG with the idea that applying the learnings of experienced operators – people who had founded, scaled, and successfully exited businesses – would be a market differentiator and provide an invaluable resource for our companies. That's the "OG" in MissionOG – "Operators Group," to underscore our operator-driven approach.
What does this mean in practice?
The MissionOG Model
Leverage our deep operating experience within our target markets – FinTech, data and software – applying a battle-tested lens to evaluate, then advise prospective high-growth companies. Our expertise spans from early-to-growth stage for enterprise and public entities.
Develop and utilize a purposeful, deep and experienced advisor network – also comprised of highly accomplished operators – that provides insights on deal flow, diligence, market opportunity and company operating best practices, in addition to invaluable networking opportunities. This far-reaching network has advised over 180 companies as board members, and 70% of these advisors have held founder or CEO roles at public or private companies.
Invest in high-growth B2B companies with demonstrated commercialization in large markets, where capital is needed to accelerate but prior to where significant capacity exists through large growth and buyout investors. That nets highly favorable risk/return profiles; a logical next stage of capital with later-stage growth investment partners; and numerous options for a successful outcome with strategic and financial buyers.
Target markets that share common characteristics and economic models, providing us an effective means to identify high-potential investment opportunities. Total addressable markets, projected growth rates and gross margins are the ingredients for exceptional growth rates. (See Figure 1.)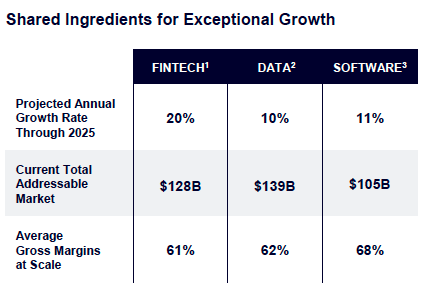 Values
Absolute partnership is about so much more than the capital or even the "operators' group" model that we've outlined here. It's also about values.
MissionOG believes in supporting entrepreneurs. Advocating for their big ideas. Guiding companies to the highest level of success.
We believe true partnership requires mutual respect, and that the best answers come from being open. We appreciate thoughtful disagreement, and we make decisions only after understanding various perspectives and considering evidence-based data.
We aspire to be our portfolio companies' best financial partner, and their first call when our teams face hard decisions.
Impact
Aside from financial backing, MissionOG has often proved our strongest partnership when providing business development opportunities for our portfolio companies through our expansive network, as well as serving as board members to provide insights for strategic planning, and advising in acquisition processes and making introductions where helpful.
Our operator DNA model has proven itself by generating a distinct investment advantage. Through our first three funds and investments in 30 companies, MissionOG has had twelve realizations by way of public offerings, strategic acquisitions, and subsequent financial sponsors. Since Q1 2020, nine realizations totaled $6.6 billion in aggregate value at the time of the transactions. Ten other existing companies have received subsequent growth financing post MissionOG's initial investment. Through our partnership with our portfolio companies, we have increased their acceleration and strengthened their path forward.
We are excited to announce the close of MissionOG Fund III and look forward to another decade of absolute partnership with some of the world's most innovative entrepreneurs.