MissionOG 2019 Year in Review
---
01.14.2020
George
Krautzel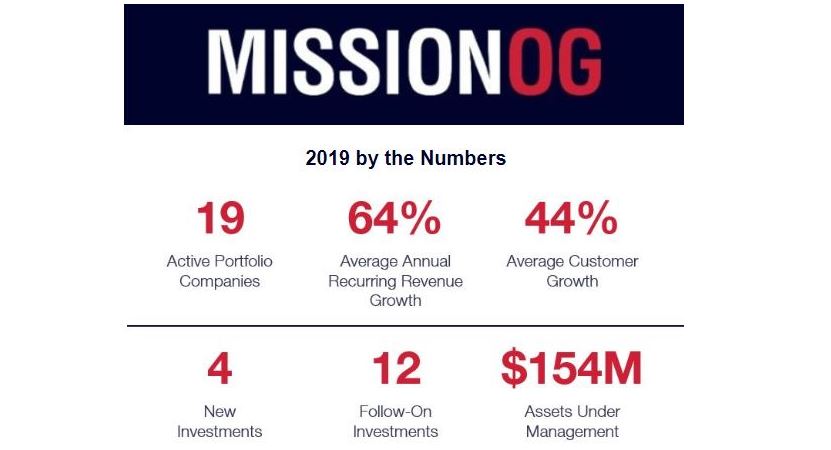 When MissionOG made its first investment in 2013, it was with the goal to be the best partner to fast growing companies.  We saw an opportunity to put forth a model that leverages our experience, network, and targeted capital to help accelerate companies in markets that are ripe for change.
In the beginning, MissionOG simultaneously invested in an exceptional group of companies while building an internal team and processes to grow our firm.  As with most start-ups, we needed to multi-task to move initiatives forward, while still delivering value to the companies that we supported and our investors.
Fast forward to 2019. It was an important and rewarding year for our firm.  MissionOG achieved significant milestones and operated in our most efficient and effective manner to date.  We introduced greater specialization and process internally to better support scale.  Most importantly, we partnered with some promising new companies, accelerated existing portfolio businesses, and completed a successful capital raise to set the table for future success.
2019 results included:
Five new members added to our extended team
Assets under management grew to $154 million
Completed fundraising for our third fund, MissionOG Fund II, at $93 million
Established four new investments in Fund II for a total of seven portfolio companies
Supported nineteen existing portfolio companies, who grew annual recurring revenue on average 64% for the year
Participated in twelve follow-on investments with existing portfolio companies
Advanced our firm with improved processes, better analytics, enhanced communications with partners, and broader market coverage
With the close of Fund II, our firm continues to be ideally suited to partner with some of the extraordinary companies we are fortunate to meet.  The new fund is more than 3x larger than either previous vehicle.  With a target of $6 million to $10 million to invest during the life of each investment, we have the opportunity to provide significant capital to high-growth businesses in some of the most exciting sectors of the economy.
Over the past year, we established four new positions in companies that provide high value to their customers and have emerged as leaders in their markets.  Featurespace provides adaptive behavioral analytics technology to financial services firms for fraud and risk management.  Through its comprehensive data on the extended workforce and predictive analytics, Brightfield empowers leading enterprises to strategically manage workforce spend. Clip has become the leading merchant acquirer in Mexico, providing mobile payment solutions to small and medium-sized businesses by transforming mobile phones into card acceptance terminals.  DemystData is a market leader in helping financial services firm discover and integrate external data in an agile, secure, and compliant manner.  The new investments combined with Alkami, BridgeFT, and Venminder, provide Fund II with an outstanding mix of transformative businesses in financial services, software, and data.  The average ARR growth of these seven companies in the last year was 75% year-over-year.
For existing companies, 2019 saw strong results across the board.  While revenue growth is only one of the success metrics that we monitor, it continues to be the easiest way to understand direction and expansion of market share.  Year-over-year annual recurring revenue growth across the entire portfolio averaged 64%.   During the year, we continued to be very active with our companies, supporting their talent and business development initiatives.  A special thank you to our network of advisors and investors for helping with high-level introductions to assist in both of those initiatives.  Identifying the right team members and accelerating commercialization are top needs of our companies and we will continue to seek creative ways to leverage our deep and effective network.
The MissionOG team was fortunate to add more great talent over the past year.  Eddie Brinson joined the MissionOG investment team as an analyst.  Prior to joining MissionOG, Eddie was an investment banker at Parchman, Vaughan, & Company and a corporate analyst at PNC. Bob Nolan became a senior advisor to MissionOG.  An experienced corporate banker and private operator, Bob has quickly established himself as a trusted voice.  Prior to MissionOG, Bob was managing partner of Halyard Capital and CEO of the BMO Merchant Bank.  We added three new advisors to our firm.   Stewart Stockdale has a deep background with world-class companies from the payments, financial services, and consumer products sectors.  Previously, he was CEO of J.G. Wentworth and president of Western Union.  Stuart Sinclair is an experienced financial services executive including leadership roles at Lloyds Banking Group and GE Capital. Blaine Wesner, who spent 15 years as a general partner with Austin Ventures, provides valuable insight into the growth of an investment firm.
As our firm has progressed, so has the contribution by key members.  Kevin Leonard, who joined our firm three years ago, has been promoted to senior associate.  In his role, Kevin helps direct our investment process and has injected more robust use of external data into our decision processes.
With the new year, we are excited about the opportunities in front of us.  While investing in high-growth companies is certainly not novel, we believe that our model and differentiation are highly relevant to the companies with whom the firm seeks to partner.  By providing an experienced voice, a deep and experienced network, and highly targeted capital, MissionOG can be an accelerator to the entrepreneurial teams with whom we invest.  We consider ourselves fortunate to support innovation in evolving markets and look forward to an exceptional year with our portfolio companies.